Pippa Wilson with Jazz Notes
Maybe this time…
Pippa Wilson (vocals)
Ann Craig (flute)
Kevin Blazé (guitar)
Andrew Eames (bass)
Simon Atkinson (drums)
Saturday 12 November 2016, 7:30-10:45pm

Ringwood RSL
16 Station St, Ringwood 3134
Excellent parking and excellent disabled access.
Train and bus stations are within 100m.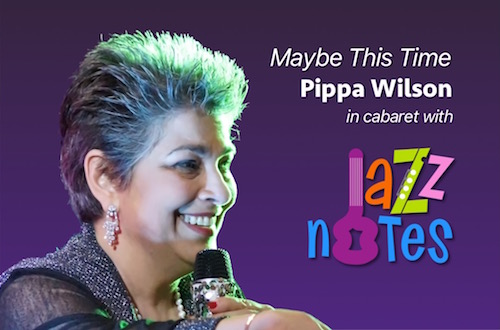 Just love Pippa singing with 'Jazz Notes'! They are just a perfect fit! (Jenny)
'Terrific – great. Loved everything.' (Bev)
Taking requests
'Loved the range of music and requests.' (Naomi & Liz)
 Last time, we took requests in the weeks leading up to the event and were able to play most of them.
We are again taking requests for Pippa to sing. Please click here to submit requests for Pippa via Facebook.
A full bar (but not meals) service will be available in the Function Room.Please note that, due to changed catering arrangements, meals will NOT be available in the Function Room during the show.
If you are intending to dine, please book a table in the Bistro (which opens at 5:00pm). It is a popular venue so we suggest that you book well in advance: (03) 9870 6604. The show commences at 7:30pm.
As a guide to prices, the Bistro's winter menu is here but it might change before November.
We've arranged for some smaller tables of 6 to bring everyone closer to the stage.Seats will be allocated in order of purchase.
Book early to secure these tables.
Of course, there'll be a dance floor.
'Thank you – a wonderful night, thoroughly enjoyed by all!'
At the door (subject to prior sale!)
A limited number of tickets will be available for purchase at the door: $30 each

Online tickets – available until 5pm on Friday 11 November 2016
One to seven tickets: $28* each
Group of 8: $24.50* each 8 seats for the price of 7
Jazz Notes subscribers: $24.50* each
If you're not a subscriber, sign up before Wednesday 9 November to get your discount promo code.*Our booking service (TryBooking) adds a $0.30 fee per person.
Go to the Booking Page
'Have listened to Pippa many times and haven't heard her sound better — flute and strings rhythm worked really well'

7:00pm Doors open
7:30pm Jazz Notes
8:00pm Pippa Wilson joins Jazz Notes
10:45pm Approximate finishing time
Together, we'll take you through a range of jazz, blues and a little gospel with the usual fun and banter that has characterised these shows.
And, of course, there'll be some surprises for Pippa!
'great interaction between Pippa and band.' (John)

Pippa Wilson (vocals)
Ann Craig (flute)
Kevin Blazé (guitar)
Andrew Eames (bass)
Simon Atkinson (drums)