We were so happy to be able to include this bonus track on our recent CD, 'A Smooth One'.
After recording all the tracks for our duo album at Homestead Studios, we asked the rest of the band to join us to record one of our favourites, Building Bridges, and we shot some footage from the session.
Building Bridges is one of our fast-paced, Latin tunes featuring flute and sax playing a tight lead with solos from flute and piano over the driving rhythm section making for a really interesting cover of this Memo Acevedo tune.
The repertoire of Caught In The Act! ranges from smooth, funky jazz to fast up-beat Latin tunes with energized rhythm: always making for a fun gig – full of energy!
Ashley Thomas (saxophone)
Tony Luxmoore (keyboard)
Recorded Jan 2020 at Homestead Studio by Tom Robinson
Mixed and mastered at Pughouse Studios by Niko Schäuble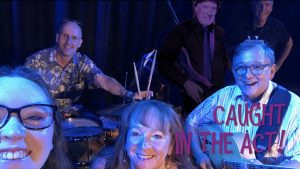 Click to enlarge